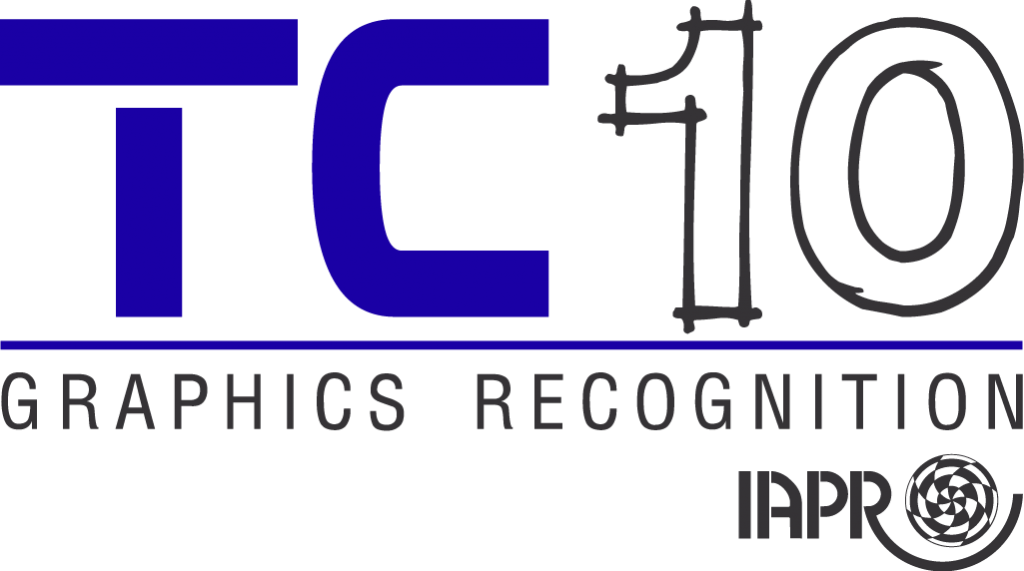 Welcome to the first 2020 TC10 newsletter.
Please note the extended deadline of the GREC-IJDAR special issue on Deep learning for graphics recognition: document understanding to February, 16th.
Also, DAS abstract submission deadline have been extended to January 15th (same as full paper submission) and ICPR workshop proposal submission deadline to January 25th.
Best wishes,
Christophe Rigaud
IAPR-TC10 Communications Officer
---
Table of content:
1) Upcoming deadlines and events
2) GREC-IJDAR special issue
3) DAS 2020 workshop
4) ICPR 2020 conference
5) Job offers
Call for Contributions: please contribute to TC10 newsletters, by sending any relevant news, event, notice, open position, dataset or link to us on iapr.tc10[at]gmail.com
---
1) Upcoming deadlines and events
2020
January 15, abstract/paper submission deadline for DAS 2020
January 24, paper pre-submission deadline DIAGRAMS 2020
February 16, paper submission deadline GREC-IJDAR special issue
March 1 paper submission deadline for ICFHR 2020
March 2, paper submission deadline for ICPR 2020
March 5, paper submission deadline for ECCV 2020
May 17-20, workshop DAS 2020, Wuhan, China
August 23-28, conference ECCV 2020, Glasgow, UK
September 8-10, conference ICFHR 2020, Dortmund, Germany
September 13-18, conference ICPR 2020, Milan, Italy
2021 and later
September 5-10, 2021 conference ICDAR 2021, Lausanne, Switzerland
December, 2022 conference ICFHR 2022, Hyderabad, India
---
---
2) GREC-IJDAR special issue (extended deadlines)
The TC10 (Technical Committee on Graphic Recognition) proposes a special issue to be published in the International Journal of Document Analysis and Recognition (IJDAR), Springer Nature:
Deep learning for graphics recognition: document understanding and beyond
This special issue is aimed to report the original and innovative advances in Graphics Recognition using deep learning methods. Thus, articles presenting reviews, perspectives, new methods and applications using deep learning for graphics recognition are cordially invited.
Guest editors : K.C. Santosh, University of South Dakota, USA – Jean-Christophe Burie, La Rochelle Université, France – Alicia Fornés, Universitat Autònoma de Barcelona, Spain – Muhammad Muzzamil Luqman, La Rochelle Université, France
Important EXTENDED dates
Paper submission deadline: January 20, February 16, 2020 (extended)
First review notification: March 20, Mai 10, 2020 (extended)
Decision (final notification): June 20, July 10, 2020 (extended)
Production (Springer, IJDAR): August, September 2020 (extended)
More details at https://iapr-tc10.univ-lr.fr/?page_id=645
---
---
3) DAS 2020 workshop (extended deadlines)
14th International Workshop on Document Analysis Systems
May 17-20, 2020 – Wuhan, China
http://www.vlrlab.net/das2020/
Call for Papers: http://www.vlrlab.net/das2020/?page_id=648
Important Dates
Regular paper submission
Abstract due: Dec. 13 Jan. 15, 2019 (extended)
Full papers due: Dec. 20 Jan. 15, 2010 (extended)
Notification of acceptance: Feb. 15 Mar. 18, 2020 (extended)
Tutorial proposals
Proposals due: Jan. 10, 2020
Short paper submission
Papers due: Mar. 10, 2020
Notification of acceptance: Mar. 18, 2020
DAS 2020 is the 14th edition of the workshop focusing on system-level issues and approaches in document analysis and recognition. The workshop comprises invited speaker presentations, oral, poster, tutorial and demo sessions as well as working group d full papers) will be published by Springer.
Topics & Technologies
· Document analysis systems
· Document understanding
· Layout analysis
· Deep learning for document analysis systems
· Document analysis for digital humanities
· Document analysis for libraries and archives
· Document analysis for the Internet
· Document analysis for mobile devices
· Camera-based document analysis
· Document datasets
· Document retrieval
· Information extraction from document images
· Graphics recognition
· Table and form processing
· Mathematical expression recognition
· Document authentication
· Document image watermarking
· Forensic document analysis
· Historical document analysis
· Multilingual document analysis
· Multimedia document analysis
· Pen-based input and its analysis
· Authoring, annotation, and presentation systems
· Performance evaluation
· Applications
Submission Types
DAS2020 will include both long and short papers, posters and demonstrations of working or prototype systems. All submissions will undergo a rigorous review process with a minimum of 3 reviews considering the originality of work, the quality of research or analysis of experience, the relevance to document analysis systems, and quality of presentation of ideas.
Full Papers
Full papers should describe complete works of original research. Authors are invited to submit original, unpublished research papers that are not being considered in another forum, up to 15 pages length.
Short Papers
Short papers provide an opportunity to report on research in progress, to present novel positions on document analysis systems. Authors may submit short papers (up to 4 pages in length). Short papers will also undergo review and will appear in an extra booklet, not in the official DAS2020 proceedings.
Demonstrations
DAS2020 seeks public demonstrations of novel systems, to be presented to the workshop as a whole during breaks between paper sessions. Prospective demonstrators should submit a two-page summary of the system to be demonstrated. Demonstration proposals will undergo review and summaries of accepted demonstrations will appear in the extra DAS2020 booklet, as in the case of short papers.
Cheng-Lin Liu, Shijian Lu, and Jean-Marc Ogier, DAS 2020 General Chairs
( das2020[at]vlrlab.net )
---
4) ICPR 2020 conference (workshop deadline extended)
25th International Conference on Pattern Recognition
September 13-18, 2020 – Milan, Italy
ICPR 2020 will be held in Milan, the most international city in Italy, the second largest and most populated city in the country! Along with Paris, NY and London, Milan is worldwide renowned as one of the fashion capital, but it is also the Italian financial hub (hosting the National Stock Exchange) and will host Winter Olympics in 2026 sided by Cortina d'Ampezzo.
Looking to the future with its roots set deeply into its past, Milan will leave you breathless!
SUBMISSION DEADLINES
Paper submission: March 2, 2020
Workshops proposal: January 15 25, 2020 (extended)
Competitions proposal: January 15, 2020
Tutorials proposal: April 1, 2020
Demos and Exhibits proposal: June 15, 2020
General Chairs
Rita Cucchiara, Alberto del Bimbo, Stan Sclaroff
---
5) Job offers
Please find more information in the following file:
— Post-doc position – L3i – La Rochelle France (repost) —
Title : Recognition of text with variable styles in comics books
Duration: 12 months
Position available from: Mai 1st, 2019
Salary: approximately 2100 € / month (net)
Place: L3i lab, University of La Rochelle, France
Specialty: Computer Science/ Image Processing/ Document Analysis/ Pattern Recognition
Contact: Jean-Christophe BURIE (jcburie [at] univ-lr.fr)
Position description
See the following file: https://iapr-tc10.univ-lr.fr/wp-content/uploads/2019/05/post-doc-L3i_BD.pdf